Globe Heat Treatment Services Ltd are proud to announce that we have been awarded ISO 9001:2015 certification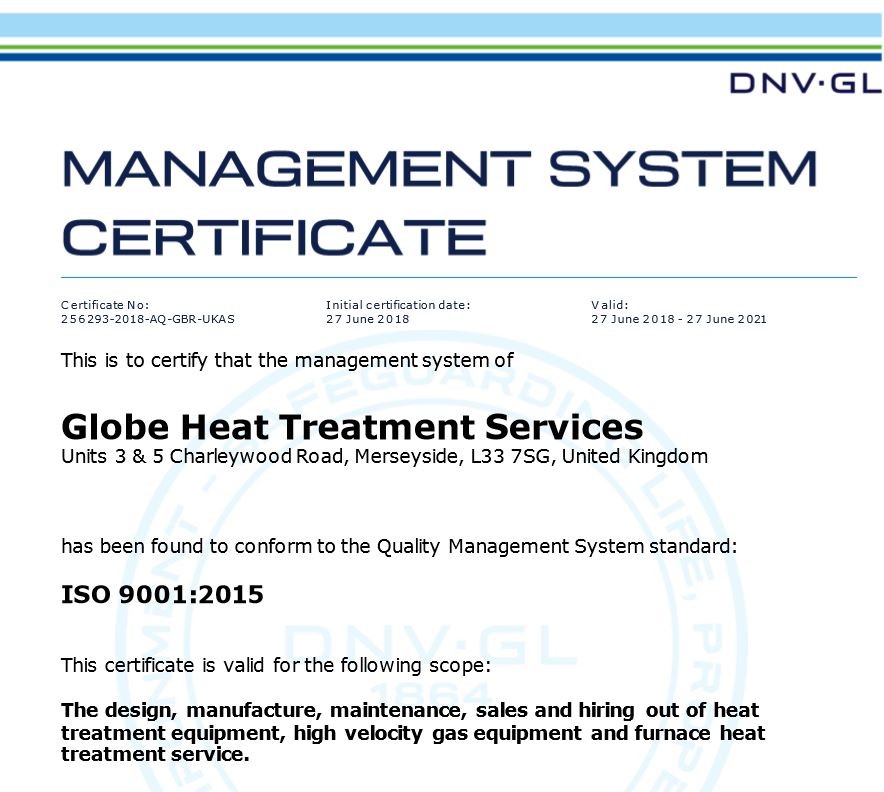 A positive desire to embrace the requirements of the standard…
Here at Globe Heat Treatment Services Ltd we are proud to announce that we have been awarded ISO 9001:2015 certification, valid from 27th June 2018, by our certification body DNV-GL.
Globe Heat Treatment Services Ltd's senior management's decision to attain ISO 9001:2015 certification demonstrates our commitment to providing, professional and consistent, high quality, heat treatment related, cost effective products and services, that meet the needs of our customers and the wider, international industrial markets and interested parties.
Globe Heat Treatment Services Ltd's success in attaining ISO 9001:2015 certification is testament to the commitment and engagement of the whole team here at Globe Heat treatment Services Ltd , and shows a positive desire to embrace the requirements of the standard as an essential component of our growth and customer focus goals.

Units 3-5 & 7 Venture Works
Charleywood Road,
Knowsley Industrial Park North
Merseyside, L33 7SG, UK
T. enq@globeheat.com⁠⁠⁠⁠⁠⁠⁠